Dog Walker in Bicester. Jo is experienced, friendly and reliable
By Steve Claridge on 2022-01-02.
Dog Walker in Bicester and Surrounding Areas
My wife, Jo, has been running Hounds and Homes for a few years now. She offers dog walking and domestic cleaning services. Our whole family are animal lovers, we currently have two labradors, a horse and a sheep.

Jo has, or has had, clients in Bicester Town, Langford Village, Ambrosden, Launton, Stratton Audley, and many other villages close to Bicester.
She always walks one dog at a time, to give them 100% of her attention. She'll walk your pooch near your home or she can pop them into her car and take them on an adventure further afield. She's happy to have on-lead or off-lead dogs as required. She's great with reactionary dogs and will walk them on-lead in quiet areas so they get some stress-free time to have a good sniff around.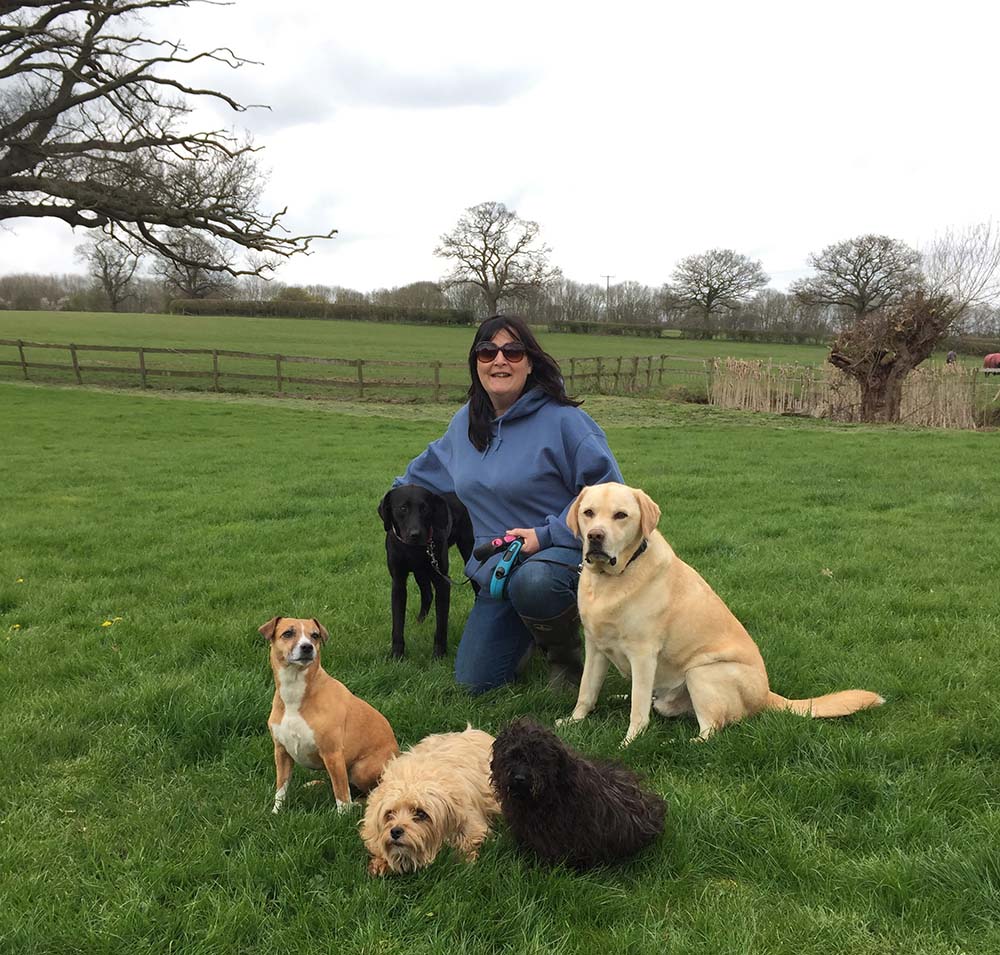 Obviously I'm pretty biased but I don't think you'll find a more trusted walker for your dog anywhere in the Bicester area.
What some of her clients have said
There is no one I trust more with my home and hounds than Jo! My house is always spotless and my dogs absolutely adore her, what more could I ask for! Thank you so much Jo, Gin & Tess can't wait to see you next week xx -- T Daniells
100% recommended, completely trust worthy and very professional. -- V McStraw
In a busy house working full time with 4 children and a dog Jo is a huge help. Jo is reliable and does a brilliant job every week. It's such a help having Jo to clean and also know she will do the main jobs I need. She's our saviour! -- K Prior
Jo is very experienced with dogs of all sizes. Our two enjoy there walks & trust her to have a spare key while we work our odd shift patterns. We wouldn't look anywhere else. -- K McWhirter
Jo is a very friendly individual who is very reliable and loves my dogs like her own! Would 100% recommend to anyone who needs a dog walker or someone to look after their dog for a day or two!! -- A Cooper
Noodle is wagging her tail at the door every time she hears Jo pulling up, she loves her walks. I highly recommend Jo as she does such a good job with Noodle. -- L Davison
Jo has been working for us for over a year, cleaning our house and walking our two dogs. Jo comes highly recommended by us and we feel very lucky to have found her. She's honest, reliable and trustworthy and a real gem. Jo has a great sense of humour, and is kind and empathetic with both humans and animals. I have complex health needs and I love having Jo around. She is a great support and always makes me laugh and I hope she'll be with us for many years to come. -- Charlie and Peta